Eyebrow Hair Transplant
Loss of eyebrows can cause an individual to feel self-conscious about his or her appearance and new hair transplantation techniques can often restore the hair to a cosmetically acceptable result. Many people fail to realize the full impact that eyebrows can make on the facial appearance.
Eyebrows have been repaired with follicular units for years, but recently the procedure has grown in popularity.
Patchy eyebrows are being attractively repaired with hair transplantation more and more.
Although they are just two small arcs of hair, eyebrows are enormously important for aesthetic and physiological reasons. Eyebrows frame the eyes and contribute to the emotions and expressions we non-verbally communicate every single day. The graceful arch, fullness, and symmetry of beautiful eyebrows bestow allure to a woman's eyes and contribute to their attractiveness in a way that is frequently taken for granted.
Physically, eyebrows protect the eye from sunlight, sweat, dust, and foreign particles. These important functions signify that the partial loss, damage, or sparseness of eyebrows due to disease, scarring, or over-plucking is not just an aesthetic concern, but a physical one as well.
A woman's eyebrows are not immune to fashion styles and the sparse, thin, over-tweezed, and one-dimensional look has gone out while the thicker, fuller eyebrow look of Kiera Knightly, Emma Watson, Kim Kardashian, and Megan Fox is in.
If you have lost your eyebrows to disease, trauma, medical treatments, or aggressive over-plucking an experienced hair restoration surgeon can restore your eyebrows to a fuller, more natural and aesthetically pleasing appearance. Although there are many hair transplant doctors throughout the country, few of them have the experience and expertise at performing a delicate procedure such as eyebrow transplantation.
Eyebrow hair does not grow the same way as scalp hair and they have several important distinctions and characteristics that must be noted:
1. The direction eyebrow hair growth changes from the inner to the middle to the outer brow area. (See diagram at below). The inner eyebrow hair nearest the nose grows upward, than proceeds to slants toward the center. In the middle eyebrow area, the lower eyebrow grows upwards at an angle while the upper eyebrow hair grows downwards at an angle which combines to make a slight crisscross that gives eyebrows a slight elevation that also lays flat against the brow. Towards the outer brow area, eyebrow hair gradually leaves the crisscross of the mid-region and completes the arch.
2. Another unique characteristic of eyebrow hair is that it grows at acute angles so the hair lays flat to the surface of the skin. This is quite different from the angle at which scalp hair grows.
3. Transplanting new hair to the eyebrows requires an immense amount of skill, training and careful attention to both physical and artistic details. No two eyebrows are exactly the same which leads to a unique approach to each patient that requires a painstaking attention to detail to produce an outcome that is both natural looking, undetectable and aesthetically pleasing.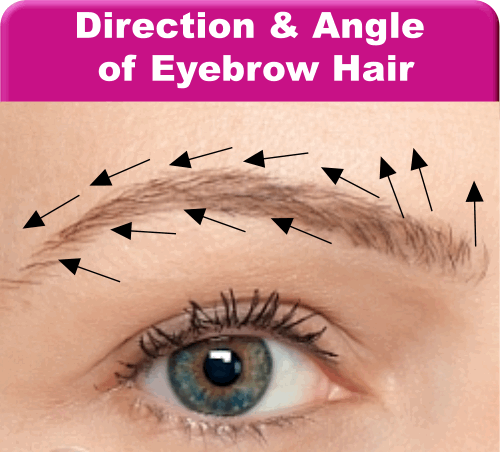 Typical direction and angle of eyebrow hair growth. Not representative of all patients.
Eyebrow hair transplantation is performed on an outpatient basis. During the procedure, a small strip of hair is removed from an inconspicuous donor area on the scalp. The medical team then uses a microscope to divide that strip of donor hair into SINGLE hair follicular units. By transplanting the hairs one by one, the surgeon can place them with careful precision to the arch, angle, and direction in such a way they would naturally grow.
Depending on what is both required and desired by the patient, the surgeon will place between 100 to 400 single hairs into each eyebrow in a procedure that will last 2 to 4 hours.
Over the next few months, the newly transplanted eyebrow hairs will fall out as part of the normal, 3-stage hair growth cycle (this is completely normal). They will then emerge from the resting phase and re-grow to create a fuller eyebrow. As the transplanted hairs grow into their new position, occasional trimming is required.
Although more women than men undergo eyebrow hair transplantation due to over-plucking, men also choose to under-go eyebrow replacement resultant from never having full eyebrows. It is common to see Asian and Hispanic males experiencing eyebrow hypotrichosis.
If you are interested in eyebrow hair restoration, please call our patient coordinator, at 480.500.7443 for more information.


– – –


Google
"I'm so happy that I decided to have my Eyebrow transplant with Dr. Shelly Friedman & his staff! What a wonderful group of healthcare professionals! Everyone was so kind & caring! I would definitely recommend them to my family & friends! God bless you Dr. Friedman & your staff too!"
— Lilly Enwiya,
May 2023
– – –


Google
"I came for eyebrow restoration and the whole process has been amazing from start to finish. Brittney & Amie in the front are both incredibly knowledgeable and friendly. Brittney spent a lot of time with me in my initial consultation & was amazing at answering my questions. Dr. Chu came in shortly after and went over everything in great detail. Dr. Chu is so experienced and knowledgeable in her specialty, she made me feel so comfortable, safe and well informed. The day of the procedure itself she was AMAZING from start to finish. She explained every step to me during the procedure so I knew exactly what was happening in real time. She made me feel so at ease. I did my aftercare with Alicia, she was so gentle and thorough demonstrating how to clean my sutures and brows. I'm so thrilled with how they turned out & the attention to detail by Dr. Chu to make sure I got exactly what I wanted. I couldn't be happier with my whole experience and the end result. If your considering a transplant procedure this is definitely the place to go."
— Brittany DeVito,
August 2023,
See Also:
Understanding Hair Transplants
Follicular Unit Hair Transplants
Follicular Unit Extraction
Typical Procedure in Eight Steps
Frontal Hair Transplants
Crown Hair Transplants
Facial Hair Transplants
Hair Transplants for Women
Eyebrow Hair Restoration
HT Questions & Answers
Patient Reviews
In-Depth Hair Transplant Info
—###—