Financing your hair restoration procedure can make it more affordable by breaking it down into easy monthly payments. However, before you can apply with either of the patient financing companies below, you must first have a consultation with Dr. Friedman to determine the best course for your hair loss treatment. The type of procedure, how many hair grafts will be needed, where they must go and whether augmentation with FDA approved non-surgical treatments will be necessary are questions that must be addressed. During your consultation, Dr. Friedman carefully considers your cosmetic goals, hair loss history, and possible future hair loss. Together, you and he will come up with a plan of action that best fits your needs.
All of these factors and the choice you make will determine the cost of your procedure. When you are ready to move forward, the Scottsdale Institute recommends that you work with either CareCredit, and PayPal Credit, to finance your procedure.
CareCredit is different from a regular credit card. It helps you pay for out-of-pocket expenses not covered by medical insurance by extending special financing options that you can't get when using your Visa or MasterCard.

Pay for health, and wellness care at over 200,000 enrolled providers across the nation. Once you've applied, you can use it again and again at any location that accepts CareCredit.
With shorter term financing options of 6, 12, 18 or 24 months no interest is charged on purchases of $200 or more when you make the minimum monthly payments and pay the full amount due by the end of the promotional period. If you do not, interest is charged from the original purchase date.
CareCredit also extends longer term healthcare financing for 24, 36, 48 or 60-month periods with Reduced APR and Fixed Monthly Payments Required Until Paid in Full. Purchases of $2,500 or more qualify for the 60-month offer with a 16.9% APR (24, 36 and 48 financing terms are for purchases of $1,000 or more with a 14.9% APR).**
——————–
PayPal Credit – Digital Credit Line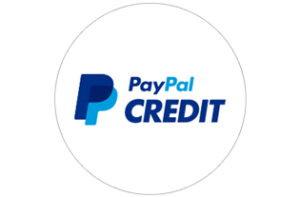 Finance some or all of your procedure through your PayPal account by applying for a PayPal credit line.
# Get 6 months promotional financing on purchases of $99+ everywhere PayPal is accepted
# Pay No Interest — if paid in full in 6 months — on every purchase of $99 or more.⁴
# Interest will be charged to your account from the purchase date if the balance is not paid in full within 6 months.
# Minimum monthly payments required. See Terms
# No credit card needed. Easily access PayPal Credit right from your PayPal account.
Apply Now and get a credit decision in seconds and use your PayPal Credit account to shop everywhere PayPal is accepted.
–#–
Pay Here: Using PayPal Credit to help finance your procedure? If so, all PayPal Credit payments for procedures should be submitted through the Payment Box below.
——————–
.