Laser Therapy
Laser Therapy for hair loss is more accurately known as Low Level Light Therapy. LLLT is a treatment method which has been proven through clinical studies to stop hair loss, and in many cases, grow new hair. Continuing advancements in the technology behind this course of hair loss therapy have produced devices that can be used in the privacy of your own home. As with any product, the quality of the product and the dedication of the manufacturer vary. The Scottsdale Institute has chosen to offer their patients the very best device of its kind available, the CapillusRX, manufactured in the United States by Capillus, LLC.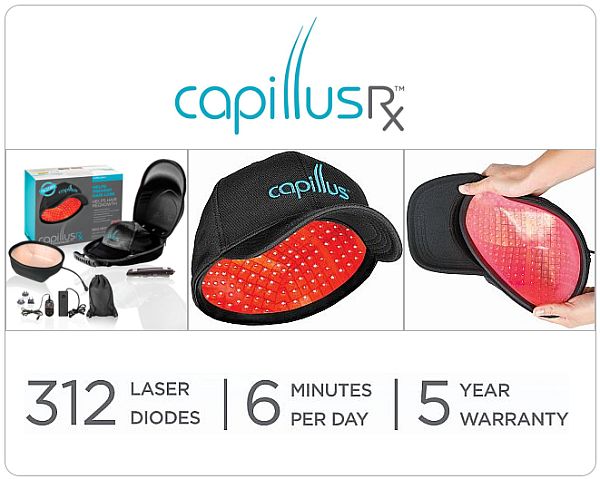 The CapillusRX laser therapy cap is a hair loss treatment device available through our office that combines low level light therapy with exceptional portability and convenience. The light source is transmitted through a hermetically sealed dome that fits inside a baseball cap, or hat. The CapillusRX is FDA-cleared for both men and women who suffer from pattern balding.
Flexible and comfortable, you can use the CapillusRX at home or on-the-go. The CapillusRX features 312 5mW laser diodes which provides maximum coverage of the affected scalp area with each session [more than any other laser therapy device on the market]. For just six minutes a day, you can apply this non-invasive, low-level laser therapy to help prevent hair loss, promote hair regrowth, and get healthier-looking hair. The long-lasting, rechargeable Lithium-ion battery and hands-free operation give you the freedom to go about your daily routine while receiving treatment.
The CapillusRX laser cap is the top LLLT choice for most of our clients due to the number of laser diodes (lights) and portability. The easier a laser therapy cap is to use, the better the compliance, which translates to better results.

FDA Cleared Hair Growth Laser
The CapillusRX has been cleared by the Food and Drug Administration by a 510(k) for the promotion of hair regrowth in adult men and women with androgenic alopecia (AGA) having Ludwig Savin classifications I-II or Norwood Hamilton classifications of IIa-V and Fitzpatrick Classification of Skin phototypes I-IV.
Features:
Comfortable, flexible fitting design
312 Laser Diodes (no LEDs)
1560mW total output
2.4 mW/cm2 fluence
Auto-programmed treatment sessions
Mobile, hands-free operation
5-year warranty
Benefits:
May reverse the process of hair loss
Safe and effective for treating hair loss due to heredity
Treats thinning hair and balding
Nurtures fuller, healthier looking hair
Revitalizes damaged hair
Easy to use & no reported side-effects
What's in the Box:
CapillusRX Laser Therapy Device
Rechargeable Lithium-ion Battery Pack
Universal AC Adapter for the battery (Inputs of 100-240 V AC, 50/60Hz, 0.6A)
Lightweight Carrying Case & Accessories Pouch for Storage & Travel
Sports Cap
User Manual
Clinically Proven Technology
Over 95% of active clinical study participants had an increase in hair counts within 17 weeks. Active study participants showed 51% more hair within 17 weeks.**
How to Use:
Wear for just 6 minutes every day under a sports cap. Its ease of use encourages compliance for maximum results. You can wear the device with the provided hat or any other hat of your preference. It works for both men and women by providing laser therapy to the follicles on the scalp by treating hair loss and hair thinning at home or on-the-go without medication, surgery, or reported adverse side-effects. If you begin treatment during the earlier stages of progression, the CapillusRX™ can reduce further hair loss and regrow the hair that has begun to thin.
What to Expect:
Keep in mind that it takes time for hair to grow. You will not notice results immediately as it takes time to restore follicle health and then for the new strands of hair to grow. We recommend you take pictures of your scalp before you begin treatment, so you can effectively keep track of results.
The following is a general guideline of what to expect in your hair restoration journey.
• 0–3 Months: The first thing you may or may not notice is an increase in shedding. If this is the case, don't worry. Initial hair shedding is actually a sign that the treatment is working – indicating that new anagen hairs are pushing out the older hairs to make way for healthy new shaft of hair. Some itchiness might be experienced at this point in the process as the arrector pili muscles linked to the follicle contracts.
• 3–6 Months: Next, you will begin to notice a decrease in hair loss. After the first few weeks of using your device according to the instructions, you will notice that hair is not shedding as much as previously. Do not be discouraged if you don't see significant change. Keep in mind that preventing progression of hair loss is in itself a success. You may notice that your hair is slightly fuller in the areas that you had noticed thinning.
• 12 Months: This is the time to evaluate the results of laser therapy. We recommend you take another set of pictures and compare to those you took at the beginning.
• 24 Months +: This is when you should see the greatest and most impactful results. Expect to see the most you can get from Capillus laser therapy at this point. For as long as you continue to comply with laser therapy, you should maintain a fuller head of hair and reduction of hair loss.
**Results described here are for the CapillusPro model for which an independently-reviewed, double-blind clinical trial study was conducted. The CapillusRX uses the same technology as the CapillusPro and differs in number of lasers for effects over a larger area of the scalp.
Laser Therapy 101
How Does Laser Hair Loss Treatment Work?
Low Level Laser Therapy (LLLT) is an FDA cleared non-surgical treatment for men and women experiencing hair loss. The low level lasers are called "soft" or "cold" lasers since they do not emit heat, sound, or vibration. Unlike surgical lasers that either vaporize or burn tissue, low level lasers do not generate heat or cause tissue injury. Laser therapy works by increasing blood flow to the scalp, which is how minoxidil works, but LLLT does it better and in less time.
The following benefits have been reported from Low Level Laser Therapy:
Increases blood supply to the scalp.
Stimulates and accelerates hair growth.
Improves the health of skin cells
Stops the progression of hair loss.
Increases hair strength and elasticity.
Fuller, shinier, softer, thicker hair.
Stops the progression of hair loss in 85% of patients.
Repairs and improves hair shaft quality.
Low Level Laser Therapy has been extremely successful for women experiencing Female Pattern Hair Loss. Unlike males, who bald, females typically see a diffuse pattern of scalp hair loss. As long as there are miniaturized, residual hairs present, there is a very good chance of reversing the miniaturization and stopping future hair loss.
As with most non-surgical treatments for hair loss, LLLT requires continuing treatments to maintain the improvements. Since the follicle has a memory, we suggest using the Capillus every other day for essentially the rest of your life or you reach to a point in your life where you don't care about losing your hair.
Candidates: Although women often make the best candidates for Low Level Light Therapy Hair Restoration since there are no other successful treatments available to stop the progression of hair loss other than Rogaine which has not proven to be as good as reported. Men benefit from hair lasers with approximately 85% seeing a stopping of their hair loss. This type of laser hair therapy only restores life to miniaturized, dying hairs – called vellus hairs – by increasing blood flow to the follicle, increasing energy, and rescuing it from its final stages before it disappears forever. The hair shaft of these vellus hairs, and others, will become thicker, and stronger. Once the health of these hairs is improved, they are better able to resist permanent hair loss.
Low Level Light Therapy will not work on men or women whose hair loss is progressed to the point where there is smooth skin baldness where no follicles or vellus hairs are present.
Want to Know More?
To learn more about personalized low level laser therapy for hair loss, contact our Institute by completing the form above. Or, call our Institute directly at 480-500-7443 to speak with a hair loss specialist about the Capillus272 Pro hair laser.

5 Stars
"Great experience. I have nothing but good things to say. The doctor really took the time to go over my options in detail. I trust his Capillus recommendation and am excited to get started with laser therapy."
–Anonymous
08/13/2019
Verified Patient